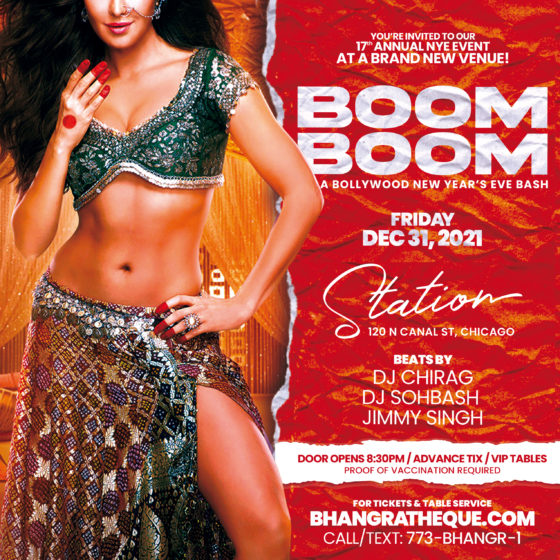 Boom Boom
Date:

December 31, 2021

Time:

8:30pm

Location:

Chicago

Venue:

Station – 120 N Canal Street
BOOM BOOM
A Bollywood New Year's Eve Bash!
Indian Beats by
DJ Chirag
DJ Sohbash
Jimmy Singh
---
— IMPORTANT UPDATE —
* Complimentary on-site PCR testing: We have hired a COVID-19 testing lab that will be conducting mandatory rapid PCR testing for all our guests on-site. This test is free of cost. This will be a non-invasive test that will require only a mouth swab and will take approximately 2 minutes per guest. In case a guest gets a positive COVID result, entry will be politely denied and the ticket will be fully refunded.
* We are issuing only a limited number of tickets so that the venue is not overcrowded (50% capacity).
* Mandatory proof of vaccination for entry (print or digital).
---
VIP TABLE OPTIONS
Silver VIP – SOLD OUT!
* Entry & Reserved Seating for up to 4 guests
* 1 Bottle of Liquor (Choice of Johnny Walker Black Label, Greygoose or Makers Mark)
* Dedicated table server
* Taxes & tips not included in the price. You'll be charged taxes and tips at the venue
Gold VIP – SOLD OUT!!
* Entry & Reserved Seating for up to 6 guests
* 1 Bottle of Liquor (Choice of Johnny Walker Black Label, Greygoose or Makers Mark)
* 1 Bottle of Champagne
* Dedicated table server
* Taxes & tips not included in the price. You'll be charged taxes and tips at the venue
Diamond VIP – SOLD OUT!!
* Entry & Reserved Seating for up to 8 guests
* 1 Bottle of Liquor (Choice of Johnny Walker Black Label, Greygoose or Makers Mark)
* 2 Bottles of Champagne
* Dedicated table server
* Taxes & tips not included in the price. You'll be charged taxes and tips at the venue
IMPORTANT INFORMATION
* All ticket sales are final and cannot be refunded. In case the event is canceled due to unforeseen circumstances, a full refund will be issued
* This is not an open bar event, you can pay for food & drinks as you go
* Mandatory coat checks are required at the venue (cost $5)
* Plenty of street & nearby garage parking available
* The suggested dressing for the evening is elegant, fashionable, and sleek attire. Dresses & Jackets are strongly encouraged. No t-shirts, or sneakers are allowed.
* This event is strictly 21 & over with a valid govt-issued ID
QUESTIONS
Email: events@bhangratheque.com
Call/Text: 773-242-6471